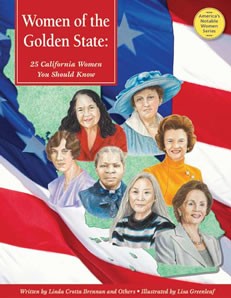 America's Notable Women Series
Other Books in the Series
Women of the Constitution State
New! A series featuring prominent and often
under-recognized women from every state, the
book is a must for both classroom and library.
Children will love this easy-to-use introduction
to research.
Each profile includes:
· One or two illustrations of the woman
· A turning-point event in the person's life
· A short biography
· "Tidbits" – fascinating additional facts about
the profiled woman or her times.
· An extensive timeline
· Ideas for further reading and research
· A glossary of unfamiliar words.
The book is perfect for units on women's studies,
American history, biography, or just for fun. Each
chapter has been extensively researched. A partial
adult bibliography appears at the end of the book.
The complete research bibliography is available in
downloadable PDF format from
Apprentice Shop Books.
Published by Apprentice Shop Books
August 2009
ISBN 0-9723410-6-4
$16, Paperback
136 pages
Grade 4-5
Did You Know?
Juana Briones was one of the first residents
in Yerba Buena, which was named for the
wild mint in the growing throughout the area.
It was later renamed San Francisco.
Biddy Mason, a freed slave, was one of
the first African American Women to own
property in California. She called the first
piece of land she owned her homestead.
Sally Ride left college to pursue a professional
tennis career. After a period of serious training,
she decided she was not good enough, and
returned to college to study Physics.
*****************
Read about these and 22 other
remarkable women from California.
Each profile includes a biography, illustrations,
a timeline, additional fun facts, sources
for further reading, and a glossary.
To purchase go to: Apprentice Shop Books
Amazon.com
(coming soon)
Back to My Books