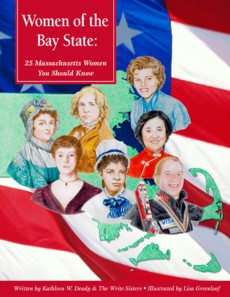 America's Notable Women Series
Other Books in the Series
Women of the Constitution State
New! A series featuring prominent and often
under-recognized women from every state, the
book is a must for both classroom and library.
Children will love this easy-to-use introduction
to research.
Each profile includes:
· One or two illustrations of the woman
· A turning-point event in the person's life
· A short biography
· "Tidbits" – fascinating additional facts about the profiled woman or her times.
· An extensive timeline
· Ideas for further reading and research
· A glossary of unfamiliar words.
The book is perfect for units on women's studies,
American history, biography, or just for fun. Each
chapter has been extensively researched. A partial
adult bibliography appears at the end of the book.
The complete research bibliography is available in
downloadable PDF format from
Apprentice Shop Books.
Published by Apprentice Shop Books
April 2009
ISBN 0-9723410-5-6
$16, Paperback
136 pages
Grade 4-5
Did You Know?
Anne Bradstreet lost a collection of over
800 books when their house burned.
After the fire, she wrote her poem,
"Upon the Burning of Our House,
July 10, 1666."
Maria Mitchell was the first woman
astronomer in the United States. However,
she also worked hard for women's
education and equal rights.
After retiring from skating, Tenley
Albright went on to become a doctor.
She was one of only five women in
her class at Harvard Medical School.
*****************
Read about these and 22 other
remarkable women from Massachusetts.
Each profile includes a biography, illustrations,
a timeline, additional fun facts, sources
for further reading, and a glossary.
To purchase go to: Apprentice Shop Books
Back to My Books