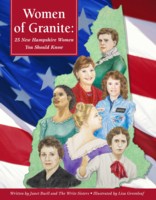 America's Notable Women Series
Other Books in the Series
Women of the Constitution State
New! A series featuring prominent and often
under-recognized women from every state, the
book is a must for both classroom and library.
Children will love this easy-to-use introduction
to research.
Each profile includes:
· One or two illustrations of the woman
· A turning-point event in the person's life
· A short biography
· "Tidbits" – fascinating additional facts about the profiled woman or her times.
· An extensive timeline
· Ideas for further reading and research
· A glossary of unfamiliar words.
The book is perfect for units on women's studies,
American history, biography, or just for fun. Each
chapter has been extensively researched. A partial
adult bibliography appears at the end of the book.
The complete research bibliography is available in
downloadable PDF format from
Apprentice Shop Books.
Back to My Books
Published by Apprentice Shop Books
April 2008
ISBN: 0-9723410-4-8
$16, Paperback
136 pages
Grade 4-5
Did You Know?
Annalee Thorndike loved to make doll
clothes and dolls with her mother as a child.
She began selling her dolls after high
school to earn a little extra money.
Christa McAuliffe was one of over
11,000 applicants to the teacher in space
program. She did not mail her application
in until the last day of the deadline.
Jenny Thompson could swim before she
could walk. She would flap her arms and
kick her feet. She could even take a
deep breath and swim underwater.
*****************
Read about these and 22 other
remarkable women from New Hampshire.
Each profile includes a biography, illustrations,
a timeline, additional fun facts, sources
for further reading, and a glossary.
Reviews
"This book is terrific. It is very kid and teacher
friendly. The layout is exactly what a child needs.
The tidbits are definitely a plus. From a teacher's
point of view it is superb."
-- Patricia Graves, retired fifth-grade teacher
"For kids . . . Women of Granite is a good one. For
grownups, it's a good book to surf through. It brings
Harriet Wilson . . . to life more than anything else I've
read about her, and the same goes for Granny D. . . .
"It lives up to its title: these are women you should
know. It's just about the sheer accomplishments of
women . . . worthwhile and presented nicely . . . "
--Lisa Parsons, Hippo Press
To purchase go to: Apprentice Shop Books