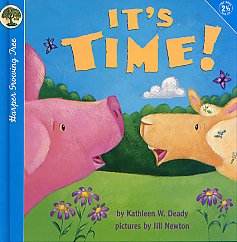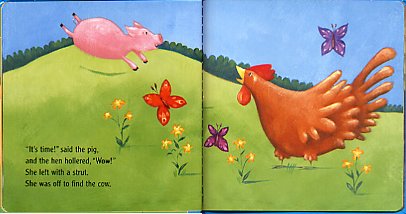 (Sample Page)
To buy: amazon.com bn.com
Back to My Books
Attention Teachers and librarians:
Itís Time! makes a terrific addition to
school reading programs for kindergarten
through second grade.
It is NOW AVAILABLE in multiple
copy sets at 40% discount or more!
For more information or to order, click here.
Published by HarperFestival
(Growing Tree Books/HarperCollins Publishers)
May 2002
ISBN: 0694015652
Ages 2 1/2 and up
Hardcover: 20 pages
"It's Time!" said the dog
on the old barn floor.
"Good news!" said the cat,
and she ran out the door.
"It's time!" called the cat
to the pig in the pen.
"Hooray! cheered the pig,
and he went to tell the hen.
And so it goes, as word spreads around the
barnyard and the friends all gather quickly to
share the good news. But what is it time for?
Reviews:
---"toddlers (will) love the suspense and the
climactic discovery. ---Booklist
-- "simple language, catchy rhymes,
and a repeated refrain . . . build a sense of
anticipation. This feeling of excitement is
reflected in the brightly colored art, which
shows a cast of appealing animals . . . An
easy-to-handle size makes this title a great
step up from board books for toddlers.
---School Library Journal
---"(an) appealing picture book, which
parents won't mind reading again
and again."--- a reader
---"IT'S TIME! is a must for the well-rounded
preschool, kindergarten or first grade
library." ---a reviewer
It's Time! is easily incorporated
into a general units on animals and farms.
It connects to many areas of the curriculum,
including language, science, and math.
Click here for related classroom activities
and reproducibles.